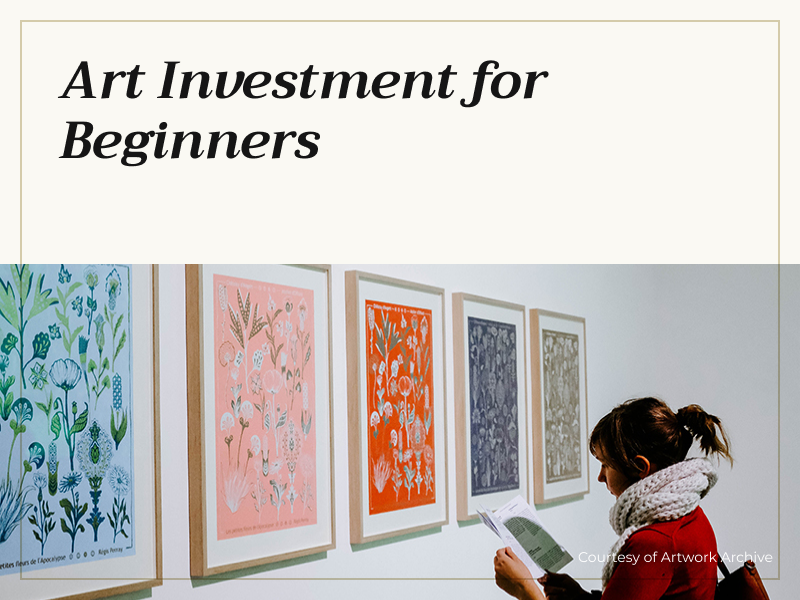 Are you thinking about getting into the art investment world, but don't know where to start? Here's your art investment for beginners guide.
Considering the current financial state of the world, many people are looking for alternative investments. And what could be a better investment than art?
Unlike traditional investments, such as stocks and bonds, art is a value-preserving asset that does not follow the ups and downs of the stock market. In fact, art has been proven to outperform the stock market in times of economic recession. Therefore, investing in an alternative asset class like art can help to diversify your investment portfolio and protect your wealth. In addition, art has the potential to generate high returns.
However, as a beginner, you may wonder how to get started in art investment. Here are some:
Art Investment Tips for Beginners
1. Immerse yourself in the word of art
Investing in art as a beginner can be overwhelming, as there are thousands of artists, styles, and genres to choose from. So, where do you even start?
The best way to get started is to immerse yourself in the art world. Visit galleries, museums, and art fairs, and attend artist talks and workshops. By doing this, you will start to develop your taste and understanding of art, which will be helpful when it comes time to invest.
Spend time studying artworks from established artists. These artists have a solid track record of sales and prices at auction, and their artworks tend to be more stable in value and easier to resell. In addition, their artworks are usually less risky and, therefore, more suitable for beginners. However, as you gain more experience and a knack for spotting up-and-coming artists, you can start to add riskier (but also more potentially lucrative) investments to your portfolio.
2. Define your budget
For a long time, many art lovers have thought of art as an expensive hobby for the ultra-wealthy. This limiting belief has prevented many people from exploring art as an investment.
The truth is, you don't need to be wealthy to invest in art, and you can start small and gradually build up your collection as your budget allows.
When defining your budget, it is important to remember that art is a long-term investment, and you should not expect to see a return on your investment overnight. Instead, think of it as buying a piece of art that you love and would be happy to live with for many years. You should also consider additional costs such as framing, shipping, and insurance.
3. Buy from reputable sources
Investing in art as a beginner sometimes makes you most susceptible to scams. While investing in art can be a great way to make money, it is not devoid of unscrupulous actors trying to exploit unsuspecting buyers.
That said, to avoid being scammed, it is important that you only buy from reputable sources. This includes galleries, art fairs, and auction houses with a good reputation. If you are buying from an individual, be sure to do your research and only buy from someone you trust.
4. Have a long-term perspective
When investing in art, it is important to have a long-term perspective. This means that you should not expect to see a return on your investment overnight. Instead, you should buy art knowing that you may not see a return for several years.
Of course, there are exceptions to this rule. You may get lucky and find an up-and-coming artist whose work skyrockets in value shortly after you purchase it. However, this is not the norm. For the most part, buying art is an illiquid investment, meaning it can be difficult to sell quickly. Therefore, you should only invest in art if you are comfortable holding onto it for the long haul.
5. Consider diversifying in different types of art
When thinking of art investments for beginners, many people immediately think of paintings. However, there is much more to the world of art than just paintings.
Consider investing in other types of art, such as sculpture or street art. These types of art can be less expensive than paintings and may offer more upside potential. If you are on a modest budget, you could also start with limited-edition prints or photographs, which are relatively affordable but can still appreciate over time.
In the end, diversifying your art portfolio will help reduce the risks and give you a better chance of seeing a return on your investment.
6. Work with an art consultant
Navigating the world of art investments can be tricky and daunting, especially if you are a beginner. Fortunately, there are art consultants who can help guide you through the process and find the right artwork for your portfolio.
An art consultant will get to know you and your goals and help you find the right artwork to match. They can also help you with the logistics of buying and selling art, such as shipping and framing.
Florence Bell Art Gallery
Art investment for beginners can be a great way to make money and build your collection. However, it is important to do your research and work with reputable art consultants to avoid being scammed.
We can help you with that!
At Florence Bell Art Gallery, we specialise in finding the right artwork for your portfolio. We will help you navigate the world of art investments and find the right pieces to match your goals.
Contact us today to get started!