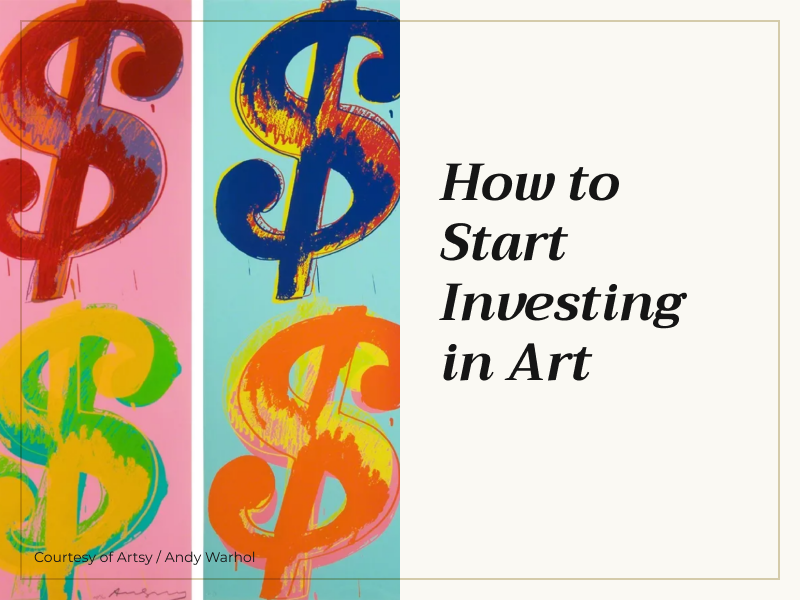 If you are an art lover who wants to start investing in art to diversify your portfolio or make a profit, you need to be able to source artworks that have potential beyond something to admire and hang on your wall. Here, we will provide tips to help get you started on your art investment journey.
If you can't hold back each time you see a beautiful piece of art or find yourself drawn to a particular artist's work, you could hit two birds with one stone by investing in art. This allows you to surround yourself with pieces you love while also giving you the chance to make some extra money. Luckily, there are several ways to start investing in art, and we are here to guide you through the process.
Luckily, we live in a time when we are increasingly breaking free from the limiting belief that investing in art is for the super-rich. While it's true that you can find works that cost millions of pounds, there are also more affordable options for those who want to get started with a smaller budget.
With this in mind, here are some:
Tips to Start Investing in Art
1. Hit the bookshop or search online for resources
One of the perks of being passionate about art is that you can use it as fuel to learn more about the artists, movements, and styles that interest you. This will be handy when it comes time to start investing in art.
To get started, visit your local bookshop or quickly search online for resources about investing in art. This will help you understand the basics of art investment and what you should look for in an artwork. Familiarise yourself with the art market and pricing trends to make informed decisions about which artworks to invest in.
2. Consider the risks
Like any investment, there is always a risk involved when investing in art. However, doing your research gives you a better chance of minimising the risks. For instance, you should know the potential for forgery when buying art. Make sure you do your due diligence and purchase artwork from reputable sources.
You should also know that the art market is fickle, and prices can go up or down depending on trends. However, if you invest in art for the long term, you are more likely to weather the ups and downs of the market.
3. Decide how much you want to spend
Investing in art is a long-term commitment, so it's essential to consider how much you are willing to spend. If you are working with a limited budget, there are still options. For instance, you can look for artwork from up-and-coming artists. These artworks are usually more affordable and have the potential to appreciate over time.
If you have a larger budget, you can look for well-established artists whose artworks are more expensive but have a higher chance of holding and increasing their value over time. Just make sure you factor in maintenance costs, especially when buying expensive art.
4. Consider art forms
For the most part, when people think about investing in art, they mostly focus on paintings. However, there are other types of art you can invest in, such as sculptures, street art, and photography. These art forms can be just as profitable as paintings, so don't limit yourself when considering which type of art to invest in.
5. Know where to look
You should know many fakes are being sold as originals. As an amateur art investor, you are especially vulnerable to falling for these scams. Several people have fallen for scams where they thought they bought an original work by a famous artist only to find out later that it was a fake.
To avoid this, do your research and only buy from reputable sources. There are many reputable art galleries and auction houses where you can find quality artwork. You can also find artwork online, but do your due diligence to avoid being scammed.
6. Consult an advisor
Before you start investing in art, it's a good idea to consult with an art advisor. They can help you navigate the art world and find the right works of art for your portfolio. Additionally, they can advise you on how best to store and care for your art collection. . Art consultants are also typically well-connected within the art world and can provide access to exclusive events and opportunities. Last but not least, they can help you spot fakes and avoid scams.
About Florence Bell Art Gallery
We are a team of passionate art enthusiasts who can help you to start investing in art. We offer a wide range of services, from art consultancy to art sourcing. Whether a novice art investor or an experienced collector, we can help you find the right art pieces for your portfolio. Get in touch with us for more information.