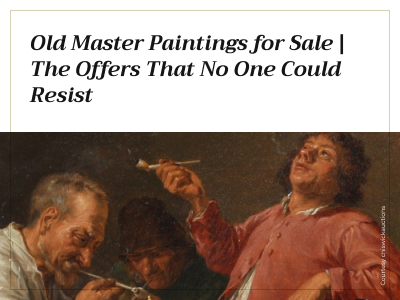 Old master paintings are some of the world's most valuable artworks. Here we will cover some of the most expensive old master paintings ever sold.
Old master artworks have been changing hands for as long as people have been buying and selling art, and their value has only increased over time. Although some of these artworks were created centuries ago, they are still highly sought-after by collectors and can fetch tens of millions at auction. The desire to own a piece of history with a rich legacy is one of the main drivers of these paintings' high prices.
Auction houses have been home to some of the most valuable old master paintings and displays of wealth by collectors willing to pay whatever it takes to secure the artwork. These high-net-worth individuals are often willing to pay a premium for rare works of art, as they know their value will only continue to increase over time.
In recent years, there have been several record-breaking sales of old master paintings at auction. But, before we get to that:
Who is Considered an "Old Master"?
The term "Old Master" describes European artists who were active during the Renaissance period and the Romantic movement. These artists include famous names in art history, such as Leonardo da Vinci, Michelangelo, Rembrandt, and Pablo Picasso.
The works of these artists are highly coveted by collectors and often sell for millions at auction. The high prices their works fetch are a testament to their legacy and the enduring appeal of their art.
In light of this, let's take a look at:
The Most Expensive Old Master Paintings Ever Sold
1. Leonardo da Vinci's " Salvator Mundi" – $450 million
In 2017, Leonardo da Vinci's "Salvator Mundi" sold for a record-breaking $450 million at Christie's in New York. The painting depicts Jesus Christ holding a crystal ball in his hand. It is one of only a handful of da Vinci's paintings, and is the only one in a private collection.
The controversial painting was sold to an anonymous buyer, who has remained tight-lipped about its whereabouts. Some experts have questioned the authenticity of the painting, but this has not deterred collectors from its allure.
2. Pablo Picasso's "Les Femmes d'Alger (Version 'O')" – $179 million
This list would be incomplete without mentioning Pablo Picasso's "Les Femmes d'Alger (Version 'O')", which sold for $179 million in 2015 and was a world record at the time. The painting is a part of a series inspired by Eugène Delacroix's "The Women of Algiers in their Apartment".
The work was sold by Christie's to an anonymous buyer rumoured to be a member of the Qatari royal family.
3. Amedeo Modigliani's "Nu Couché" – $170 million
This sensual painting by Amedeo Modigliani sold for $170 million, making it one of the artist's most expensive works ever. The painting depicts a nude woman lying down with her face turned to the viewer. The painting was bought by a Chinese couple in 2015.
4. Pablo Picasso's "Garçon à la pipe" – $104 million
Picasso's "Garçon à la pipe" is one of the most recognisable artworks in the world. The painting depicts a young Parisian boy holding a pipe surrounded by two bouquets. The work was sold to an anonymous buyer for $104 million in 2004, setting a world record for the most expensive painting at the time.
5. Van Gogh's "Portrait of Dr. Gachet" – $82.5 million
Vincent van Gogh was one of the most influential post-impressionist artist. During his illustrious time, he created thousands of artworks, but only a handful are in private hands today.
In 1990, "Portrait of Dr Gachet" became the most expensive painting ever sold at auction when a Japanese businessman bought it for $82.5 million. The portrait was painted by Vincent van Gogh and depicted Dr Paul-Ferdinand Gachet, who treated the artist during his final weeks.
Old Master paintings continue to fetch eye-watering prices at auction. The high prices these works sell for are a testament to the legacy of old masters and the enduring appeal of their art. If you're lucky enough to own one of these paintings or have an eye for unearthing emerging talent, you could be sitting on a goldmine.
About Florence Bell Art Gallery
We provide bespoke art sourcing and consultancy services and deal in a wide range of artworks from new up-and-coming street artists to established Post-War British artists. Our experts are on hand to advise on building or managing your collection.
Whether you are a first-time buyer or an experienced collector, we can help you find the right artwork for your home or office. Contact us to discuss your requirements