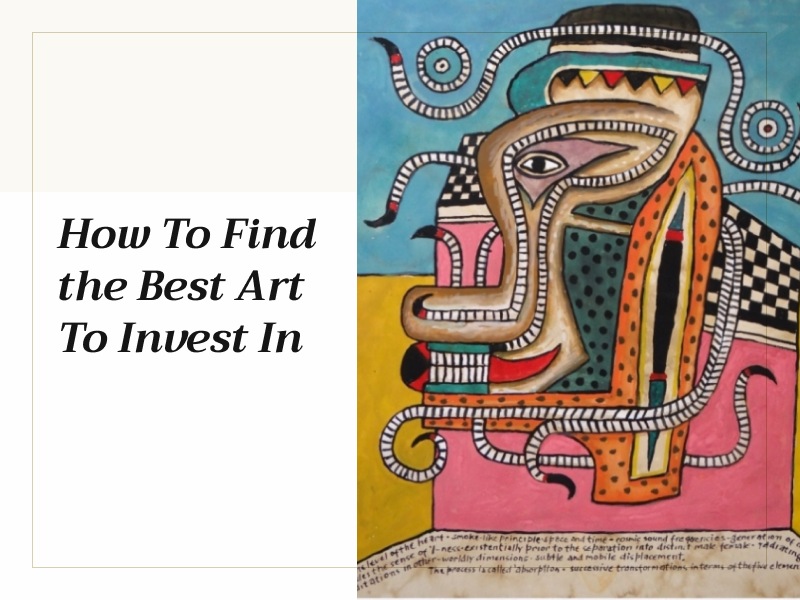 Investing in alternative assets like art can significantly diversify your portfolio and protect your wealth. But how do you know if you're buying a masterpiece or a dud? Here's how to find the best art to invest in.
Art investments are unique opportunities to add value and diversify your portfolio while providing you with the chance to enjoy and appreciate the piece itself. However, as good as it sounds, investing in art is not without its risks.
Similar to other investments, doing your homework narrows your options and increases the chances of finding the best art to invest in. The research begins with understanding the different art types and artists representing a good investment.
It also covers the potential risks you could face when investing in art and how to avoid them.
With this in mind, let's explore the:
Different Kinds of Art You Can Invest In
Deciding what type of art you want to invest in is a critical first step. Not all art is created equal; some types are more likely to appreciate than others, while some are more accessible. Moreover, this also helps you define your budget and the size of your art collection. Before reading our recommendations, It is good to read our tips for investing in art.
1. Old Master Prints
Old master prints are some of the oldest and most valuable pieces of art you can invest in. These are original artworks from renowned artists who worked between the renaissance period and 1800.
Some famous old masters include Leonardo da Vinci, Rembrandt, and Michelangelo. Because of their age and rarity, these pieces are highly coveted by wealthy art collectors and often sell for millions at auction.
2. Contemporary Art
Contemporary art includes artworks created by artists alive today or who have passed away recently. These pieces are usually more affordable than old master prints, but can still be valuable.
Some of the most sought-after contemporary artists include Banksy, Jeff Koons, and Andy Warhol. Contemporary art is also more accessible than old master prints, as you can often find them for sale at galleries and online.
3. Blue-Chip Art
Blue-chip art is a term used to describe art from well-established artists with a proven track record of producing valuable artworks. These artists are usually household names and have works that sell for millions of dollars at auction.
Although not as valuable and sought-after as old master prints, blue-chip art is still a good investment as their pieces tend to hold their value and appreciate over time. Blue-chip artists include Pablo Picasso, Jackson Pollock, and Andy Warhol; they are some of the best art to invest in.
4. Emerging Artists
Emerging artists are up-and-coming talents starting to gain recognition in the art world. Their artworks are usually more affordable than those from blue-chip artists but have the potential to appreciate significantly in value over time.
Developing an eye for emerging artists is not easy, but it can be gratifying. Some of the most successful collectors have made a fortune investing in unknown artists who later went on to become world-renowned.
What To Look For When Looking for the Best Art to Invest In
Now that you know the different types of art you can invest in, it's time to learn what to look for when buying a piece. These factors will help you determine if the artwork is a good investment and has the potential to appreciate.
1. The Artist's Track Record
When looking at a piece of art, it's important to research the artist and their past work. This will give you an idea of how successful they are and how in-demand their art is.
You can do this by looking at the prices their art has sold for at auction and the number of exhibitions they have had. The more successful the artist is, the more likely their art is to appreciate.
2. The Subject Matter
The subject matter of the artwork is also important to consider. Is the piece about a current trend or issue? Is it Timeless?
Artworks that are timeless or relevant to current trends are more likely to appreciate, as they are more likely to be in demand.
3. The Condition
A piece in pristine condition will command a higher price and be more likely to appreciate than one that is not. So, it's important to inspect the artwork carefully before buying it to ensure it is in good condition.
4. The Provenance
Provenance refers to the history of a piece of art, and it's important to consider looking for the best art to invest in. Artworks with detailed provenance are more likely to be genuine and have a higher value.
You can consider these factors when assessing the potential value of a piece of art. However, you can also improve your chances of finding a good investment by:
To find the best art to invest in, it's a good idea to get advice from a reputable art dealer consultant. They can help you source pieces and provide guidance on which artworks are most likely to appreciate.
It's also important to research and stay up-to-date with the latest trends in the art world. This will help you identify which artists and artworks are currently in demand and likely to appreciate.
Go to art fairs and exhibitions
Attending art fairs and exhibitions is a great way to see various artworks in one place. This can be helpful if you're trying to narrow down your options. Plus, it's an excellent opportunity to meet different artists and dealers.
Check out online galleries
You can also check out online galleries if you cannot attend art fairs or exhibitions. Many websites feature various artworks from different artists, which can be an excellent way to compare prices and find the best deal.
The Bottom Line
When finding the best art to invest in, following these tips can help you make a wiser decision. Nevertheless, it's important to remember that the art market is unpredictable, and past performance isn't always a good indicator of what will happen in the future. So, consulting with an expert is essential to minimise the risk involved.
If you need help assessing the potential value of a piece of art, or if you're looking to start your art collection, you can rely on our expertise. We offer a comprehensive art advisory service to help you find the best art to invest in. Contact us today to learn more